Meetings
Unless indicated otherwise, all SMAS Programs are held at the Adams County Agricultural Resource Center, 670 Old Harrisburg Road, Gettysburg, PA at 7:30 pm (refreshments at 7 pm). A room number for the SMAS meeting will be posted on the front lobby entry inner door.
Bonnie Portzline (profile - courtesy of The Gettysburg Times) is happy to give her presentation 'Birds with a Gettysburg address' to interested parties. The presentation is based on her wonderful photographs of local birds.

---
Bird Arrivals and Departures
The Fall 2021 migration competitions are now open. If you are interested in participating or just want to know what is going on contact Mike Bertram at 717-352-7936.

The state of Adams County sightings can be found in the Arrivals and Departures page. The progress of migrations can be seen at eBird.org by going to the explore section and looking at the species' recent sightings.
---
Meetings and other Activities
Thursday 2nd December:- trip to see the Bald Eagles at Conowingo Dam. Registration required. If you are interested in participating contact Linette Mansberger at 717-495-8137
Saturday 18th December:- Christmas Bird Count. If you are interested in participating contact Mike Bertram at 717-809-8911 and leave a message.
---
The South Mountain Audubon Society aims are to conserve and restore natural ecosystems, focusing on birds, other wildlife, and their habitats for the benefit of humanity and the earth's biological diversity focusing on Adams County, PA.

The Society works towards those aims with meetings, birding trips, and conservation activities.

There are 2 Important Bird Areas locally:
---
Click here to join National Audubon and the South Mountain Audubon Society. Please select U17 as the Chapter code from the drop down menu on the form.
If you only want to join the South Mountain Audubon Society only then sign up at the next event you attend. The annual membership is $15.
---
The Society can be contacted in the following ways:
email: SMAS@southmountainaudubon.org

Tel.: 717-809-3911

Mail: SMAS, P.O. Box 3671, Gettysburg, PA 17325.
---
Local Bird Sightings in 2020
There were a number of new and rare species recorded in the area in 2020, although they have been previously recorded in adjacent areas:

South Adams Grasslands Important Bird Area (covering part of Adams County) -

220 species recorded.

New sightings for area: Long-tailed Duck, White Ibis, Summer Tanager

Rare birds: Sora, American Bittern, American Golden Plover, Forster's Tern, Golden-winged Warbler, Worm-eating Warbler, Mourning Warbler
South Mountain Important Bird Area (covering parts of Adams, Franklin, and Cumberland Counties)

193 species recorded.

New sightings: Townsend's Solitaire

Rare Birds: White-winged Scoter, Northern Harrier, American Avocet, Wilson's Snipe, Yellow-throated Warbler, Rusty Blackbird, White-winged Crossbill, Common Redpoll
Adams County (excluding sightings in the IBAs already noted)

231 species recorded.

Rare birds: Common Gallinule, Philadelphia Vireo
Further details including lists of all the bird sighted can be found on the Bird Lists page. See map for the definition of the IBA areas.
---
Recently the SMAS Board participated in the first Breeding Bird Blitz for Conservation. The following letter was received in response.
Dear Donor,
We can't thank you enough for your contribution to the 2021 Breeding Bird Blitz for Conservation (Blitz), sponsored by the Pennsylvania Society for Ornithology. This first-time effort was wildly successful because you and many other donors care about birds and protecting bird habitats. Thanks to the many who generously contributed, we raised $10,000 – doubling our original goal of $5,000!
We know that many donors also participated in the birding effort, documenting bird species around the state. There were 22 Blitz teams, comprised of 89 people who covered 30 counties in Pennsylvania. You can see the contest highlights on the PSO Blitz website.
The Blitz incorporated a sense of competition by recognizing top teams in fundraising, species counts, and low carbon birding (bird counts done on foot or by bike, etc.), but also encouraged teams to submit their findings to eBird. If you aren't familiar with eBird, it's a citizen science platform for recording bird observations that is used not only by birders, but by scientists studying bird populations, bird density, and bird migration. This data is invaluable to our understanding of bird dynamics. Since the Blitz occurred in mid-June, many participants documented breeding birds and made some surprising discoveries.
One important finding was made by The Kuehl Bird Magnets, a team comprised of Tom and Janet Kuehl, who documented baby American Coots (called cootlings) in Westmoreland County. American Coots are a species of special concern in Pennsylvania and are ranked S2B (Imperiled) in our state, so a documented observation like this caught the attention of conservation ornithologists who were eager to add this observation to their database! Click here if you'd like to see a photo taken by Tom Kuehl of some very cool cootlings.
Another key purpose of the B4C was to raise funds for conservation. Thank you again for being part of this important effort. You will be glad to know that 100% of the donations will be divided three ways and donated to our partners: Hawk Mountain, Manada Conservancy, and Western Pennsylvania Conservancy. These partners will use the funds to protect bird habitat for our focal species: the Wood Thrush and the Northern Harrier. While quite a few teams documented Wood Thrush around the state, the Northern Harrier was a miss. Not a single team recorded a Northern Harrier sighting. While disappointing, this miss also indicates the importance of helping Northern Harriers, so they don't disappear entirely from Pennsylvania.
As noted earlier, this was our first Blitz, but it won't be our last one. We intend to start planning for next year's event very soon and hope that more teams will find even more birds and, of course, raise more funding for bird conservation in 2022.
With sincerest gratitude, Vern Gauthier, Brian Byrnes, Laura Jackson Eli DePaulis, Annette Mathes, David Yeany II
The Pennsylvania Society for Ornithology Conservation Committee
Field Trips
FIELD TRIPS - Field trips will be planned on an annual basis and a tentative list will be sent in late December to those on our email list. Details for day trips will be announced in the monthly email blasts, and details for overnight trips will be announced a few months in advance. Also, information can be found on this website. Each monthly email will list a contact person and a meeting place and time for the upcoming events. If you are not on our email list, you can contact Mike Bertram at mike@the2nomads.org or call 717-809-3911 (please leave a voicemail) if you have questions or need other details. Field trip cancellations will be announced by email as soon as possible and also on this website.  

---
Devil's Den area
On the 25th September SMAS birded in the area of Devil's Den in the Gettysburg NMP. 38 species were observed, including Blackpoll and Black-and-White Warblers.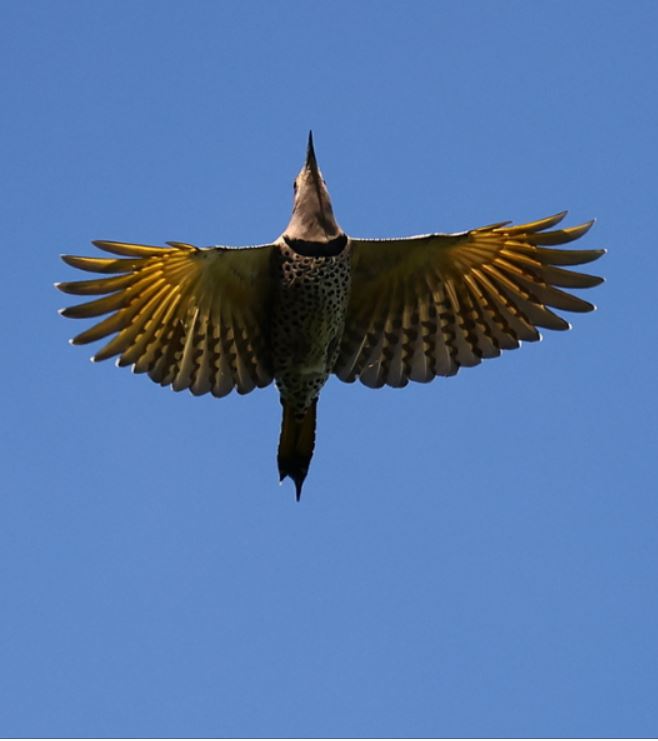 Northern Flicker
Northern Mockingbird
photos by Evan Vaeth & Linette Mansberger
---
Long Pine Reservoir
On the 2nd of October SMAS birded near Long Pine Reservoir, Michaux State Forest. 30 species were observed.

SMAS members at Long Pine Reservoir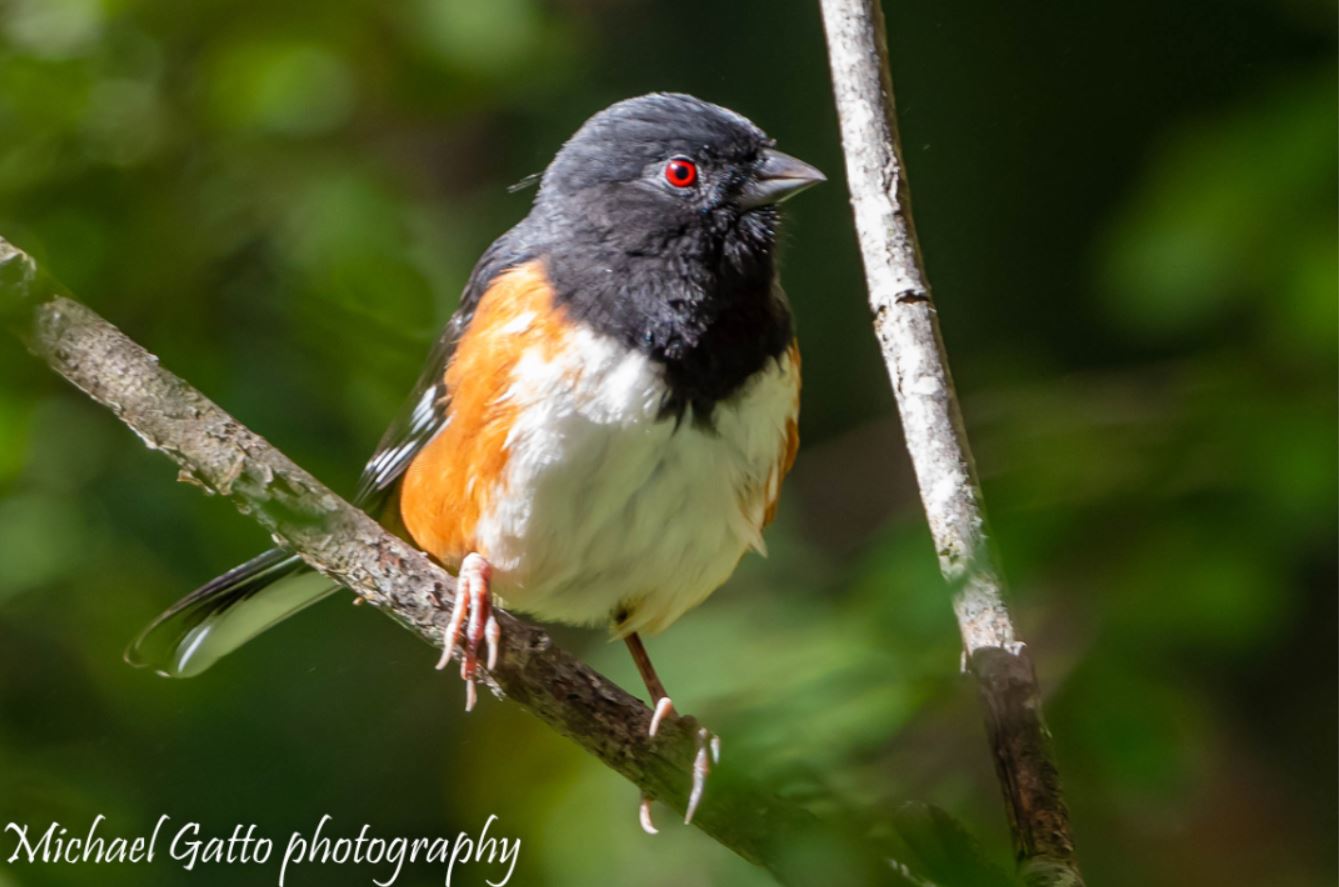 Eastern Towhee

photos by Cy Deitz & Mike Gatto
---
Cedar Woods Farm
On the 9th of October SMAS visited Cedar Woods Farm. 45 species were observed.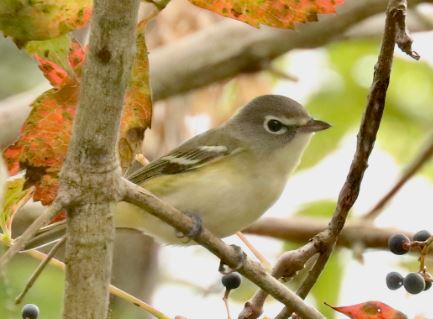 Blue-headed Vireo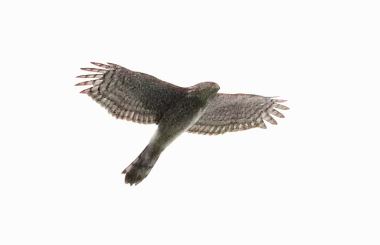 Cooper's Hawk
photos by Linette Mansberger
---
Duck Drive
On the 27th November SMAS had its annual Duck Drive.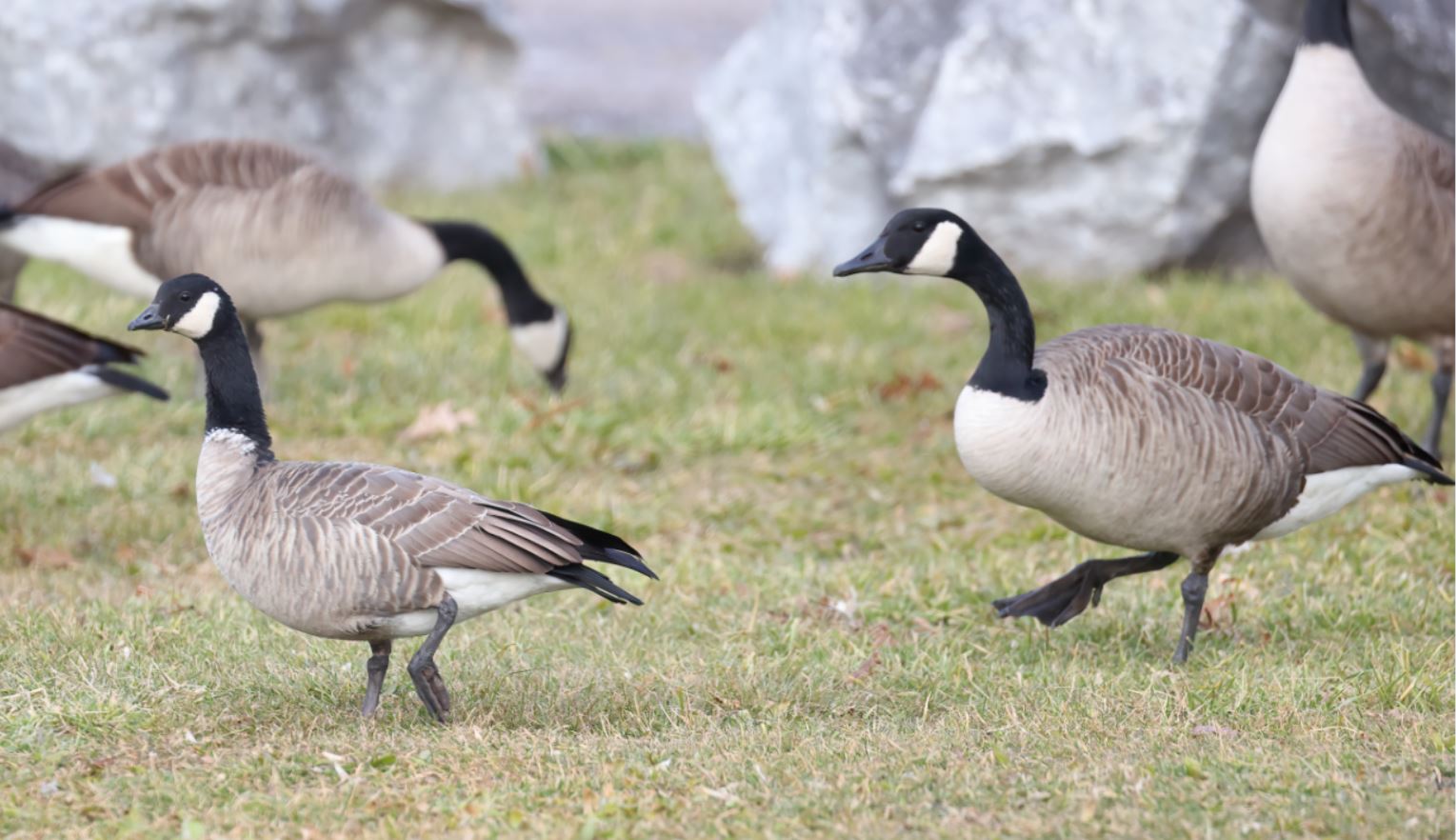 Cackling Goose, wth Canada Goose for comparison
Hooded Mergansers
Photos by Evan Vaeth and Linette Mansberger
---