Meetings
Unless indicated otherwise, all SMAS Programs are held at the Adams County Agricultural Resource Center, 670 Old Harrisburg Road, Gettysburg, PA at 7:30 pm (refreshments at 7 pm). A room number for the SMAS meeting will be posted on the front lobby entry inner door.
Bonnie Portzline (profile - courtesy of The Gettysburg Times) is happy to give her presentation 'Birds with a Gettysburg address' to interested parties. The presentation is based on her wonderful photographs of local birds.

---
Bird Arrivals and Departures
The Fall Migration Bird challenge is underway (spreadsheet here). You can join at any time. If you are interested in participating or just want to know what is going on contact Mike Bertram at 717-809-3911.
---
Local Bird Sightings in 2022
Although the number of species recorded in the Christmas Bird Count in 2022 was lower than usual that was not reflected in the eBird reports for Adams County and the local IBAs for the complete year. In fact there were a number of new species as well as reports of species not see locally for many years. Someone tried to tweak the numbers by releasing Indian Peafowl and Red Junglefowl, but they did not succeed.
A trio of new sparrows were recorded, Clay-colored, Nelson, and Harris. The Marsh Wren had eluded recording in the county in the past although there were observations in all surrounding areas. Marsh Wrens were observed in two separate places in the county in 2022.
Among the species not see locally for many years were: Sandhill Crane, Snow Bunting, Black-bellied Whistling Duck, and Dunlin.

---
Meetings and other Activities
Saturday, September 30 7:30 am, Bird walk near Devil's Den, Gettysburg NMP. Leader: Cy Deitz

We will meet at 7:30 AM in the small parking area at the intersection of Sedgwick and Wheatfield Roads, just west of Route 134, Taneytown Road. (see map below) We might do some carpooling from there to get closer to the Devil's Den area. Our permit to bird that area on that day does NOT allow for us to park numerous cars in the Devil's Den area.

We will be walking along paved roads. No restroom facilities are available. Cy Deitz will lead the walk.

In case of cancellation, you will receive an email by Friday evening.

Questions? - Please reply to this email or call Linette at 717-495-8137.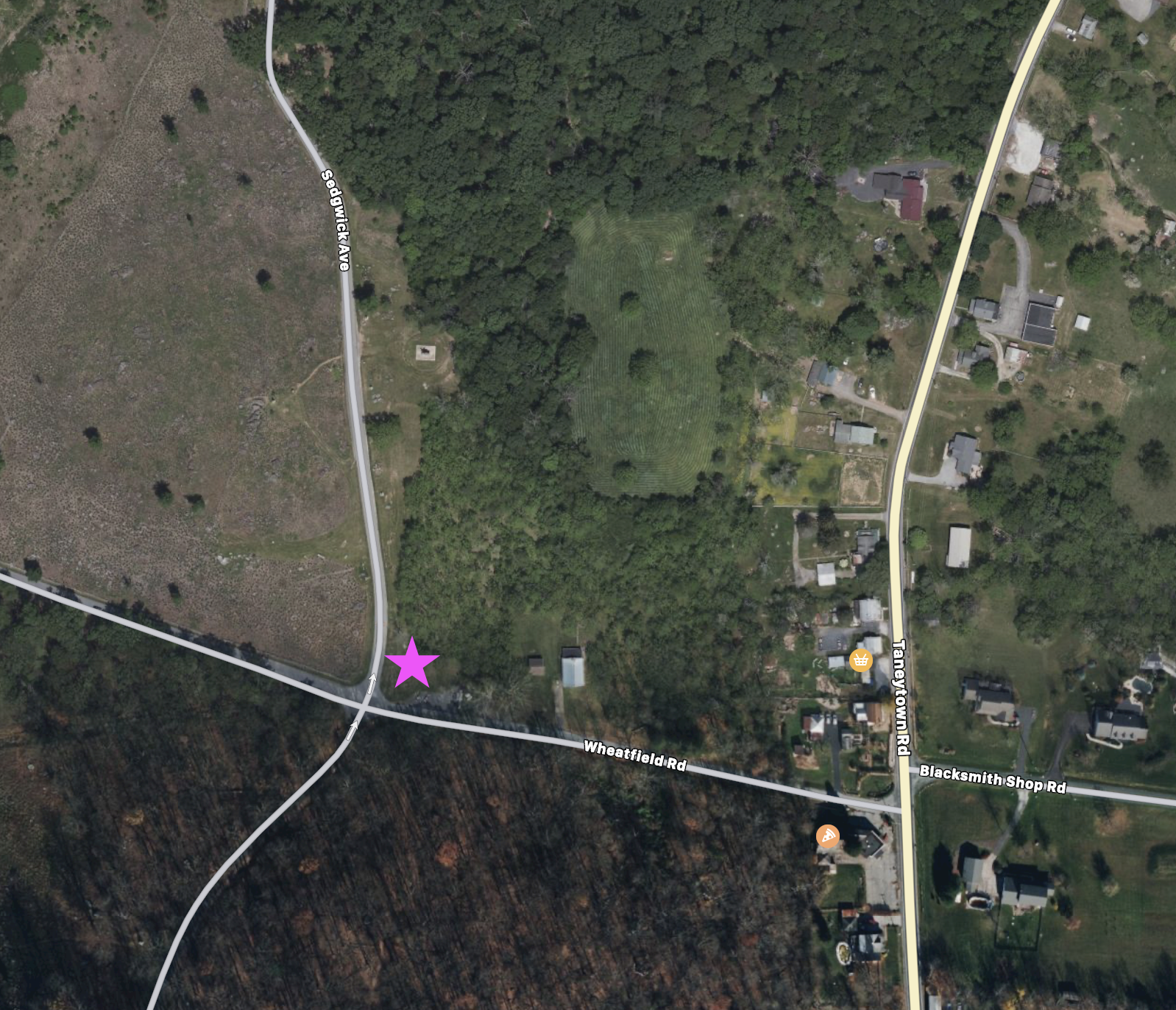 Saturday, October 7 - Bird Walk at former Harrisburg State Hospital Grounds
Saturday, October 14 -Bird Walk at South Middleton Park, Boiling Springs
Monday, October 16 Birding the seasons by Evan Vaeth.

Refreshments and social time: 7:00 PM

A brief business meeting followed by the program: 7:30 PM.

Location: Ag Center in Gettysburg at 670 Old Harrisburg Road, Gettysburg.
Free and open to the public


Saturday, October 21 – Geology/Bird Walk at Plum Run near New Oxford with Jeri Jones
Monday, November 20 Biodiversity in PA by West Shore Wildlife Center.

Refreshments and social time: 7:00 PM

A brief business meeting followed by the program: 7:30 PM.

Location: Ag Center in Gettysburg at 670 Old Harrisburg Road, Gettysburg.
Free and open to the public


Saturday, December 16 Christmas Bird Count.
---
The South Mountain Audubon Society aims are to conserve and restore natural ecosystems, focusing on birds, other wildlife, and their habitats for the benefit of humanity and the earth's biological diversity focusing on Adams County, PA.

The Society works towards those aims with meetings, birding trips, and conservation activities.

There are 2 Important Bird Areas locally:
---
Click here to join National Audubon and the South Mountain Audubon Society. Please select U17 as the Chapter code from the drop down menu on the form.
If you only want to join the South Mountain Audubon Society only then sign up at the next event you attend. The annual membership is $15.
---
The Society can be contacted in the following ways:
email: the2nomads@gmail.com

Tel.: 717-809-3911

Mail: SMAS, P.O. Box 3671, Gettysburg, PA 17325.
---
Educational Initiatives
South Mountain Audubon sponsors educational efforts on natural history in the local schools. In March it finacnced the purchase of books by the Montessori School.
---
Field Trips
FIELD TRIPS - Field trips will be planned on an annual basis and a tentative list will be sent in late December to those on our email list. Details for day trips will be announced in the monthly email blasts, and details for overnight trips will be announced a few months in advance. Also, information can be found on this website. Each monthly email will list a contact person and a meeting place and time for the upcoming events. If you are not on our email list, you can contact Mike Bertram at the2nomads@gmail.com or call 717-809-3911 (please leave a voicemail) if you have questions or need other details. Field trip cancellations will be announced by email as soon as possible and also on this website.

---
Oakside Park
On the 20th July SMAS visited Oakside Park, Biglerville and observed 40 species; 2 were new sightings at the Park, a Willow Flycatcher and Purple Martins.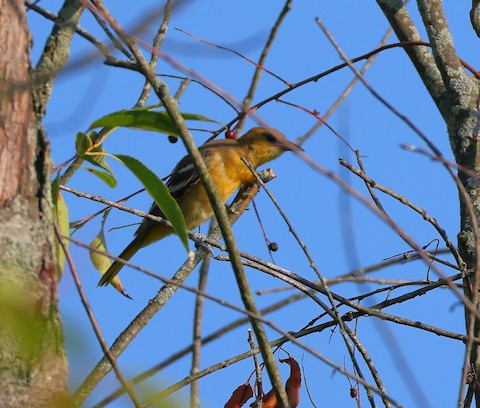 Baltimore Oriole
Photo by Evan Vaeth
---
Shorebird Drive
On Saturday 20th August South Mountain Audubon ran its first shorebird drive in Adams and York counties. The shorebirds seen were: solitary sandpiper, least sandpiper, pectoral sandpiper, killdeer, lesser yellowlegs, semipalmated plover, and spotted sandpiper.
The sighting of the day was a family of Virginia Rails, which seems to be the first breeding record in Adams County
Virginia Rail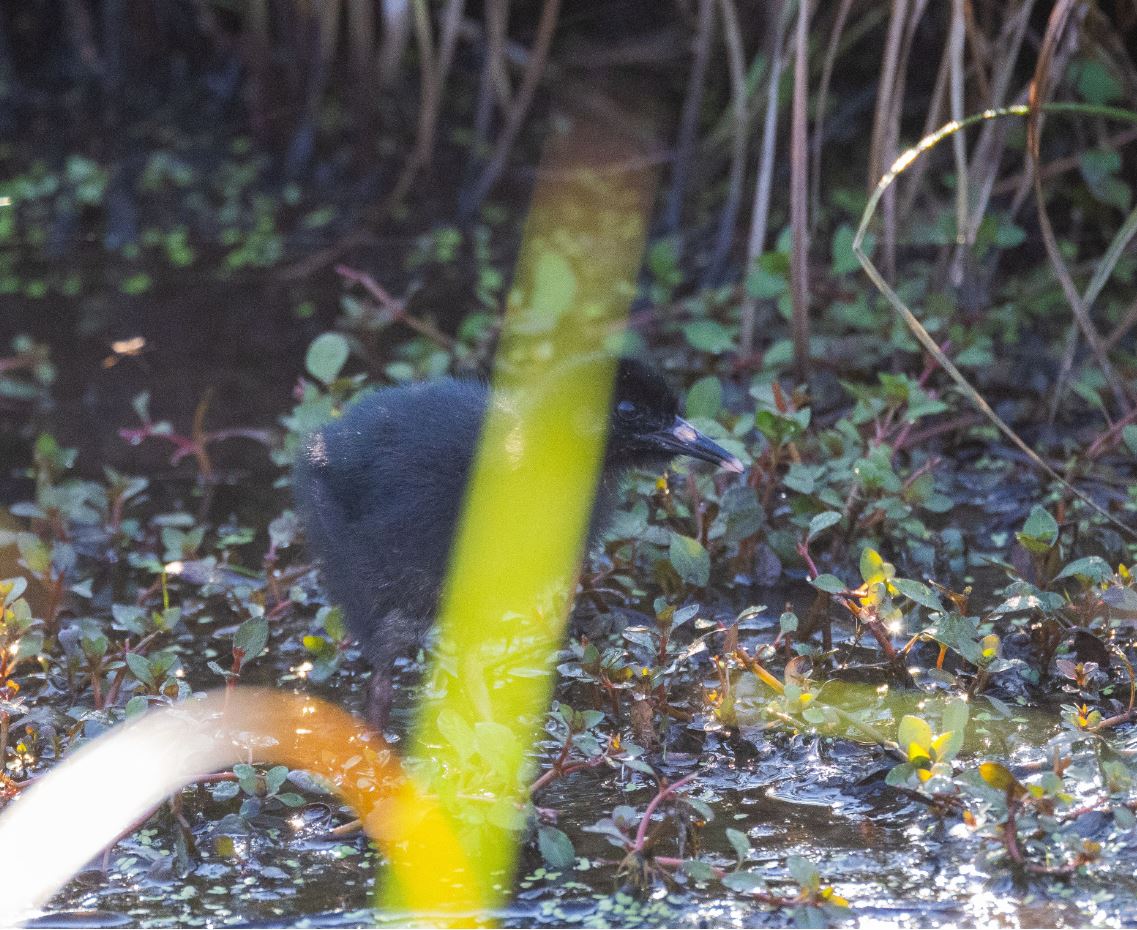 Virginia Rail chick
Photos by Evan Vaeth
---
Rock Creek
On Saturday, 26th August, SMAS walked along Rock Creek in Gettysburg. 33 species were observed.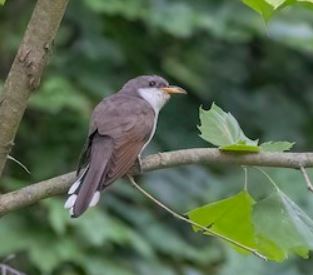 Yellow-billed Cuckoo
Photo by Evan Vaeth
---
Hanover Watershed Wildlife Management Area
On the 10th of September SMAS walked in the Hanover Watershed Wildlife Management Area. Under difficult conditions 34 species were observed.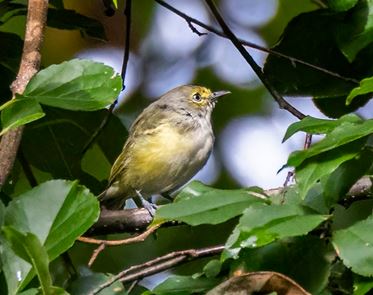 White-eyed Vireo

photo by Evan Vaeth
---