Dr. John Davis (1744 - 1816)
John Davis lived in Tredyffrin for all of his life. In 1763 he graduated from what was to become the University of Pennsylvania with an A.B. He participated in the Revolutionary War as a physician, was captured by the British in New York and held as a prisoner of war until he was exchanged in a prisoner swap. After the war he continued to practice medicine.
In 1782 he purchased a tract of 100 acres from his father, James Davis. A resurvey found the area to be 156 acres. West Valley Road rsn next tot he property. It was first laid out in 1782. This original road ran south, in a straight line, to Upper Gulph Road, and was called Doctor's road in a number of documents. The road was realigned in 1818, running on its present tract and the original southern section was abandoned.
In the 1790 census, the household of Dr. John Davis had 13 members consisting of two free white males 16 years and upward, four free white males under 16 (sons Cadwalader, John, Lewis, and Enoch), six freewhite females (daughters Hannah, Mary, Lydia, Marcia, and Sarah) and a slave. The identity of the second older male is unclear, but John's father, James Davis and household does not appear in the census.
The Davis and Evans (of Paoli) families were connected by marriage. John's wife was Ann Evans. Their daughter Lydia, married Joshua Evans of the Paoli Inn. Daughter Mary married Randal Evans who owne dthe Black Bear and General Jackson taverns, and ran a tannery.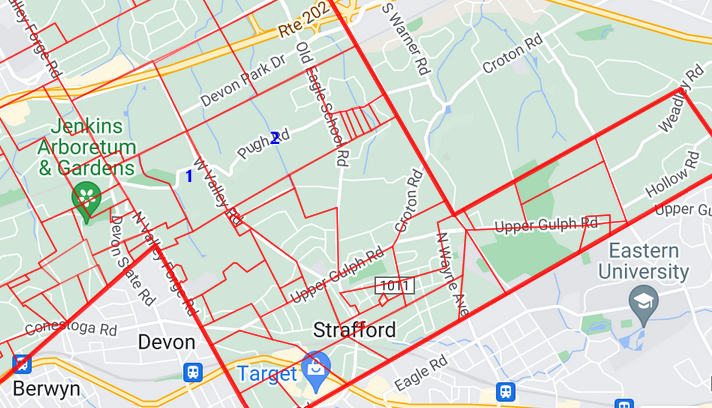 1798 map
1 - Dr. John Davis tract; House: Log 26' x 17' 1 floor. Windows: 2 windows with 6 panes; 2 windows with 18 panes. Other Buildings: Stone Barn 60' x 32'; Stone Waggon house 27' x 17'.
Area of tract: 123 acres.
2 - James Davis tract; House: Stone 30' x 21', 2 floors Windows: 1 window with 15 panes; 7 windows with 12 panes; 2 windows with 8 panes. Other Buildings: Stone Barn 55' x 30';
Dwelling house 18' x 15'.
Area of tract: 159 acres
When his father James Davis died in 1802 James' property descended to his 3 sons: Dr. John Davis, Dr. Elijah Davis (of Maryland), and Benjamin Davis, and, perhaps, daughters. Elijah acquired the tract. Then in 1815 Elijah sold his inheritance to his brother John.
With this purchase John became the largest land owner in Tredyffrin. He owned 2 farms and woodland which totalled over 410 acres in area. He built a stone farmhouse in the early 19th century described in an advertisement of 1819 as: ' a large new stone house, finely finished and handsomely situated, with a large good stone barn; carriage house, and all other out-buildings on the premises'.
John did not live long to enjoy his property as he died in 1816. It took many years for his property to be sold and his affairs completed.
John Davis died intestate on the 13th February 1816. As part of the administration proceedings his Davis property was split into 4 tracts, two of them being woodland. The two woodland tracts were each split into 8 woodlots and sold (see advertisement). The deeds are all dated 1st April 1817 and can be found on tables AO.3 and AO.4 in the deed histories. The two farms were sold seperately.
The westerly farm of 156½ acres was purchased by Enoch and Elijah Davis at the same time as the wood lots (see table AO in the deed history), and was known as Greenwood Farm. (See the TE Quarterly article A brief history of Greenwood Farm). They lost it in a Sheriff's sale (see advertisement) in 1819 and it was subsequently purchased by Dr. William Harris in 1820.
The easterly farm of 162¾ acres proved to be difficult to sell (see court notices in 1818 and 1819, and sale notices on 17th and 23rd December 1823. In 1830 it was purchased by Levi Lewis and it descended to Lydia Lewis by 1883. At one time it was called Farmfields.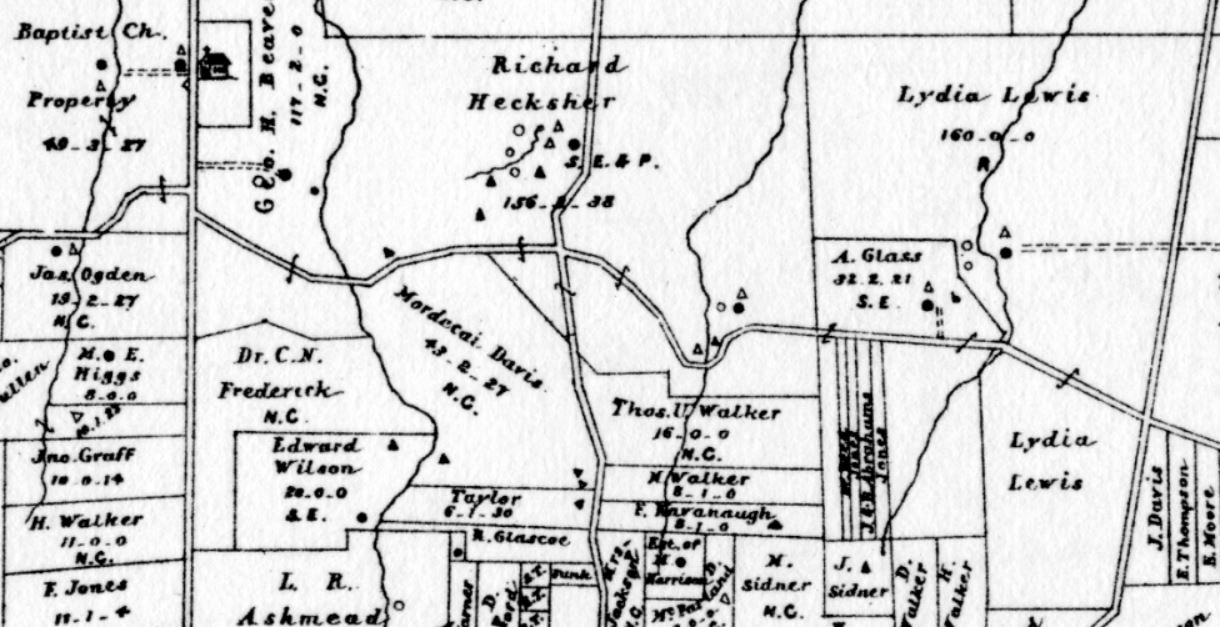 Davis tracts from Breou's 1883 atlas
---
Notes and References
To Do
1810 and later census.
Orphan's court records.
Research slave