History club celebrates 50th year
By Helen Cooper, Suburban Staff Writer
Some of the Tredyffrin Easttown History Club's collection of local postcards were on display Sunday as the Tredyffrin Easttown History Club celebrated its 50th anniversary on Sunday at the Duportail House.
Robert M. Goshorn, editor of the club's Quarterly brought the collection and announced issuance of the 97th edition of its Quarterly. He was honoured for his revival of the magazine, which he described as a Neverly for some years, with the second volume of the Chester County Postcard Album, produced by Paul A. Rodebaugh and Wilson C. Baldwin.
Goshorn described the club's collection as typical of the early 1900s postcard era. Most were reproduced from photographs of Lucy Sampson, of Berwyn, between 1900 and 1910. "It was the custom to send postcards when you went travelling. If you received one, ? one up, you'd send a postcard of your hometown!"
The T/E collection shows the Berwyn Bronze Works under construction in 1908, Lancaster Pike as a dirt road, lined with boardwalks for pedestrians. Goshorn notes that only the churches look the way they did at the time.
Fritz's field is the subject of one postcard with the Mary Bair house and a church in the background - the only break in the pasture which
Continued on Page 10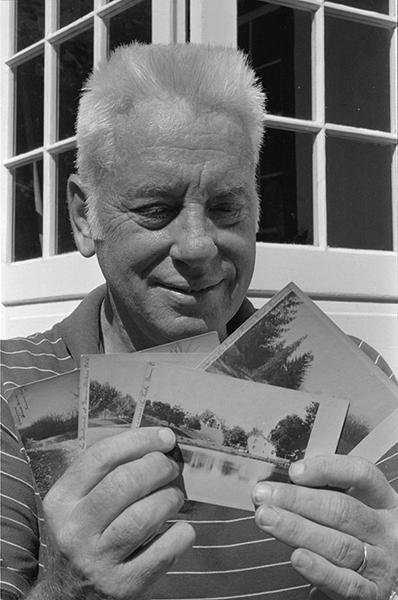 A few of the 3,000 postcards in T/E history buff Robert M. Goshorn's collection are reminiscent of the early 1900s, he says, when it was fashionable to return a card for every one received.
Suburban and Wayne Times, 8/28/1986.
Found by Greg Prichard.
---