The Tredyffrin Easttown Historical Society's photograph collection contains the following 3 photographs1. Little was known about the photographs other than they were located at what is now the junction of Swedesford Road and route 252 in New Centerville and that they came from the Dorothy Reed collection.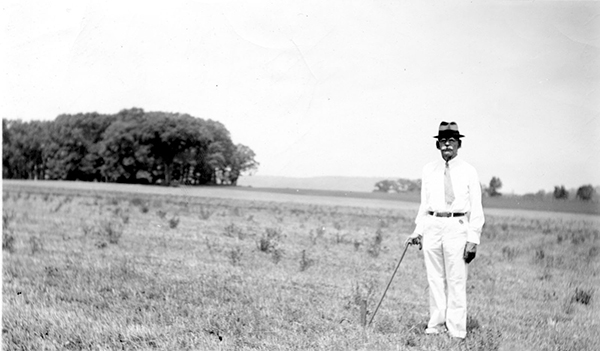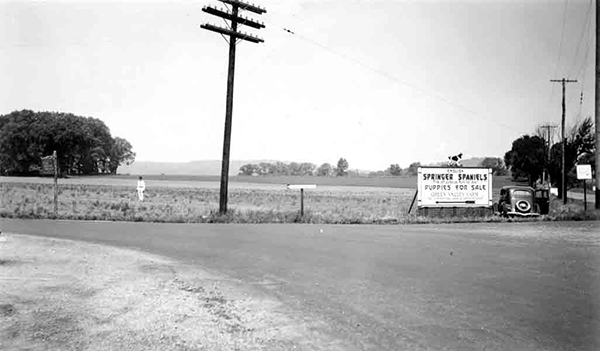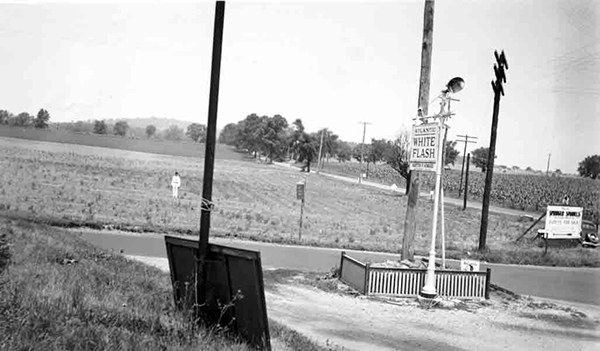 Susann Welsh and her sister Ellen Kehr have an outstanding historical collection of family materials. Last November I visited Susann in her home to view the collection. Imagine my amazement when she showed me exactly the same prints of these photographs. What is more she identified the person in the first of the photographs as her great-uncle, Clarence Burton Roberts! In 1922, when Clarence Roberts moved in with Susann's grandparents, Abraham and Pauline (nee Thomas) Casselberry he brought a trunk with the historical materials with him.
It is easy to suggest that in the photos Clarence Roberts is standing at what he considers the location of the Picket Post, but there is no evidence to make that connection.
Susann also had a newspaper obituary of Clarence Roberts written in 1941:
Clarence Burton Roberts
Clarence Burton Roberts, a member of one of the oldest families in the Chester Valley, passed away at the home of his niece and her husband, Mr. and Mrs. A. H. Casselberry, at Oaks, Montgomery County, about six-thirty o'clock, Wednesday evening of last week. He had suffered a fall about two months ago and was confined in Phoenixville Hospital for about three weeks, but had returned to the home of his niece and the immediate cause of his death was a heart condition which he had suffered since having a slight stroke eight or ten years ago while visiting a brother in Carnegie, PA. He had also suffered from failing eyesight and had been unable to read for several years.
He was born on the Roberts farm, in Chester Valley, near New Centerville, now owned by Ralph M. Hunt and one of the most beautiful estates in the Valley, son of William and Susanna Havard Roberts, on February 11, 1860, and following the death of his parents, conducted the farm until it was sold in 1922, when he went to live with his niece. He was a great reader, and one of the best informed men on the history of Valley Forge and its surroundings, in the country. Many historians and other writers visited him in his home to obtain information which is was always glad to give. He was a stalwart Republican and took a great interest in the affairs of Tredyffrin Township, having at one time served as tax collector. A year ago, the Tredyffrin-Easttown History Club, wishing to place a marker at some historic spot on the Roberts farm, asked to meet with them on the farm and mark the spot which he willingly did.
Mr. Roberts was unmarried and in his youth attended the Friends' School in Tredyffrin Township, Fairview School and Friends' Central School in Philadelphia. He was a member of Thomson Lodge, No. 340, F. and A.M., of Green Tree, Montgomery Chapter No. 262, R. and M., of Ardmore, and Ascension Commandery, No. 97, Knights Templar, of Ardmore and of Valley Friends Meeting.
Of a family of nine children, the only surviving member is a sister, Mrs Sue R. Thomas, of Fairview Village, Montgomery County. The late Dr. Charles J. Roberts, of Berwyn, was a brother2, and Captain Harold A. Roberts and George Burton Roberts, of Berwyn, were nephews.
Interment was in the cemetery of the Valley Friends Meeting house, new New [sic] Centerville, on Saturday.

J. K. K.

(typed from a newspaper obituary on which someone wrote the year - 1941 - as time of death)
Background History
The Roberts farm was part of the Havard tract, purchased in 1707, originally 800 acres in size encompassing what is now Chesterbrook. In 1766 John Havard senior split the tract into 4 farms for his children. He gave the south east tract of 110 acres to his daughters, Anne, Hannah, and Sarah Havard3. The south east corner of the tract was the location of the Stone Chimney Picket Post during the Valley Forge Encampment (see below).
The tract was inherited by Susanna Havard, who married William Roberts in 1841. Susanna died in 1903 or 1904 and the property was then inherited by Clarence Roberts. He sold the farm to Jesse Walker in 1922, who then sold it to his cousin, Ralph Hunt, in 1930. Next John Yohn purchased the farm from Ralph Hunt in the early 1940s4.
John & Mae Yohn subdivided the area, selling one portion to the Tredyffrin school district in 1963, another to the Archbishop of Philadelphia for the St. Isaac Jogues Parish in 1970, and to the Picket Post Village incorporated in 19735.
The Picket Post
After consultation with Clarence Roberts, on the 1st August 1939, the Tredyffrin Easttown History Club dedicated a marker at the location of the Stone Chimney Picket during the Valley Forge encampment. An article and photos of the ceremony and location can be found in the Quarterly6 and on the Image database (search term Picket Post). In 1980 the marker was re-installed after a road widening project7. In 2019 Larry DeYoung restored the marker8.
Acknowledgements
This article is possible through Susann Welsh's generosity in letting me see and photograph the documents in her family's historical collection.
---
References
Image database identifiers NCE2, 3, & 4.
see Charles Joseph Roberts M. D., by George B. Roberts, TEHS Quarterly, vol.7, #1 (December 1948).
Chester County deed P-412. For details of the other 3 farms see: Three Pre-Revolutionary War Houses with a Family Connection by Nancy Pusey, TEHS Quarterly, vol. 41, #3 (Summer 2004).
The Yohn Farm in Chesterbrook, by Mike Bertram, TEHS Quarterly, vol. 44, #3 (Summer 2007).
See deeds O35-602 (12/18/1963), N39-588 (8/27/1970), and U41-211 (8/21/1973).
The Stone Chimney Picket, by S. Paul Teamer, TEHS Quarterly, vol. 2, #4 (October 1939) and editorial TEHS Quarterly vol 44, #4 (Fall 2007).
Club Again Marks Site of Stone Chimney Picket Post in Notes and Comments, TEHS Quarterly, vol. 18, #3 (July 1980).
Valley Forge Historical Marker Restored, by Larry DeYoung, TEHS Quarterly vol. 55, #2 (Spring 2020).