---
Just east of Berwyn Station on the Main Line is a curve that trains have to slow down to take safely. In 1902 the Board of the Pennsylvania Railroad approved a project to eliminate the curve1. The new route was to run east from Daylesford station south of the Berwyn center rejoining the existing track just west of Devon. A 1902 plan2 shows this route:





The legislative constraints meant that the PRR (Pennsylvania Railroad) could not use eminent domain to purchase the properties, rather they had to purchase them on the open real estate market. For this type of purchase the PRR used the MRE&T (Manor Real Estate and Trust Company), which it controlled. In 1903 the MRE&T agents undertook a purchasing spree of properties along the proposed track route. A few additional properties were purchased in 1904 but then the project ground to a halt. The properties purchased are shown on the following plan outlined in green: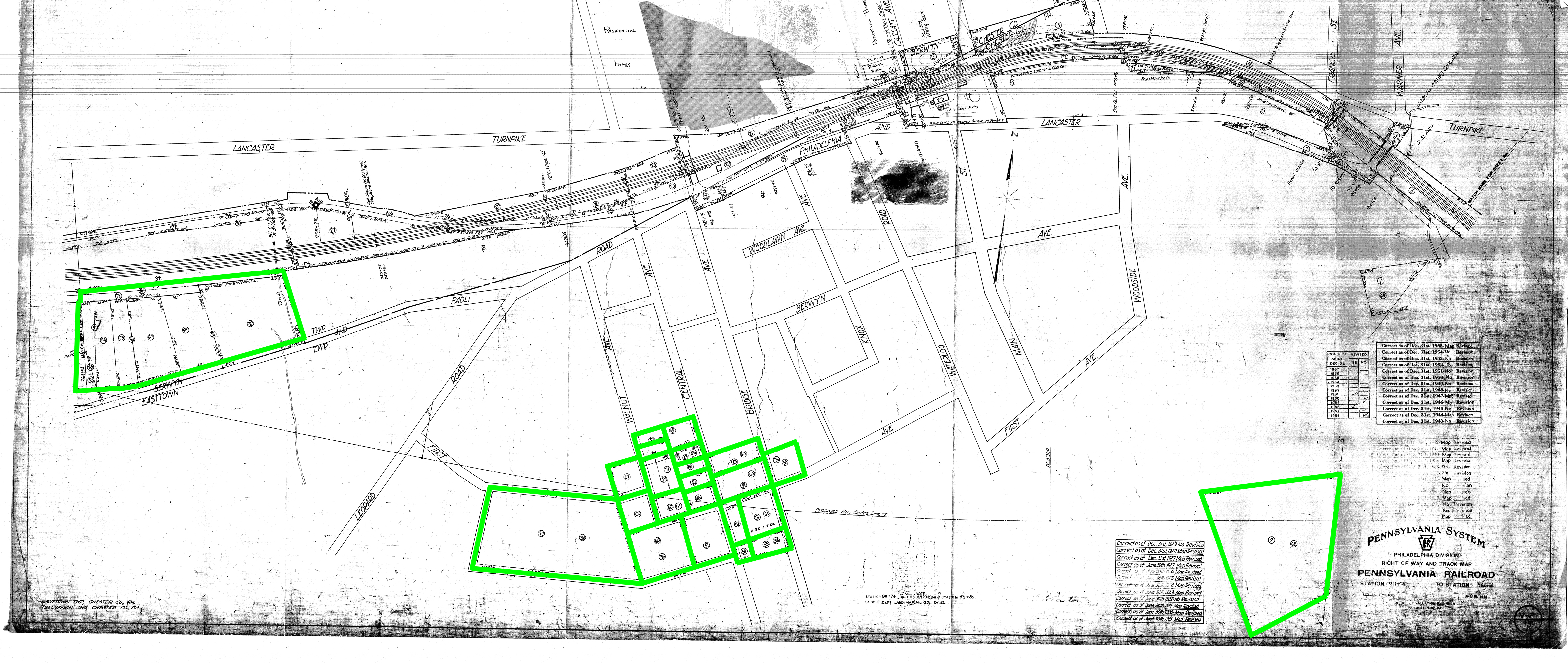 The western gap in purchased properties was occupied by a Coates family farm, while the eastern gap included a number of properties, including the Potter farm. The central area of purchases may be where there were plans for a new Berwyn station3.

It is unclear whether the project stalled due to lack of money or due to the reluctance to sell by the remaining property owners on the route. In subsequent years no progress was made on the project. Around 1918 the project was cancelled and a few sub-divisions of the properties were sold. Between 1920 and 1926 the remaining properties were sold, catalyzing an avalanche of sub-division and house building in Berwyn … and today the trains still slow down to take the curve.
Notes and References
1. "Dec. 24, 1902 PRR Board authorizes realignment at Berwyn" in http://www.prrths.com/newprr_files/Hagley/PRR1902.pdf

2. Triumph III, by David W. Messer, p. 199, Barnard, Roberts & Co., 2000
3. This was not the only PRR project in the area at that time. The Mueller 1912 atlas also shows the proposed Darby Creek Low Grade line. Properties around Leopard were purchased as part of that project.
Acknowledgements
Jim Brazel, Frank Tatnall. Roger Thorne, & Stephen Titchenal provided useful information and insights.
Mike Bertram 6/15/2021, updated 2/11/2022.