This school was originally attached to the Church but at some stage the link seems to have been weakened and it was called the Baptist Union School.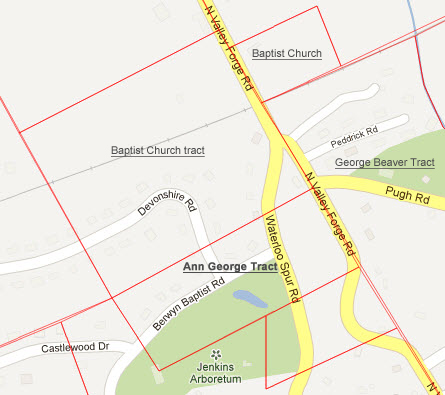 A plan of Ann George tract from a map of Tredyffrin property boundaries in 1798
In 1753 and 1755 Ann George purchased adjacent tracts totaling 17 acres in area near to the Baptist Church as shown on the above plan (see deed history). Ann died in 1791 and willed her property to Dr. John Davis and John Bartholomew and their heirs for the support of a school either on the tract or within 1 mile of it. John Bartholomew died in 1814, and Dr. John Davis in 1816. In 1822 a Pennsylvania Legislative Act was passed transferring the property to the Corporation of the Contributors to the Union School in Tredyffrin. The trustees then sold the property in 1827. The trustees at that time were: Devault Beaver, George Beaver, Dr. William Harris, Spicer Jones, Samuel D. Philips, Richard C. Walker, and Joshua Jones.
In 1831 a school was built across from the Baptist Church probably from the proceeds of this sale. The Public School law was passed in 1834 and the first Tredyffrin School District was subsequently set up. The Baptist School seems to have disappeared by 1860.